---
Mile's Commissions
Information, Contact, Status & Slots
COMMISSIONS ARE CLOSED
WAITLIST IS OPEN
Planning to open commissions again in late January/February, message me if you want to reserve a slot.
---
★ Commmissions Info ★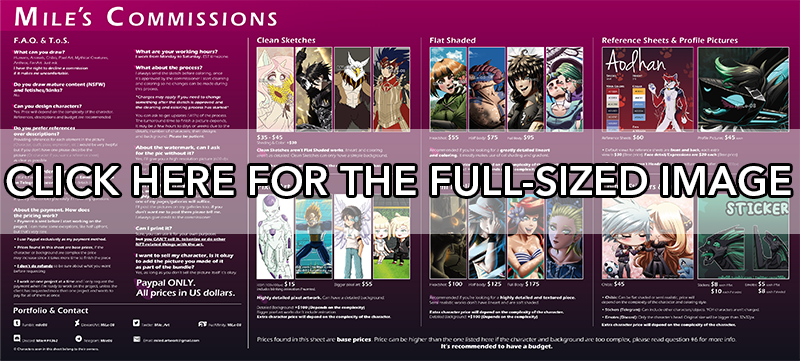 F.A.Q & T.o.S. included
Please read them carefully
✦ Portfolio | Order Form | Contact ✦
---
★ Status and Slots ★
✦ CLOSED ✦

Message me if you
want me to reserve you a slot

✽ First come, first served ✽

Preferred ways to contact me:
E-mail, Discord and Telegram.

・• Work Hours •・
Monday to Friday

・• Days Off •・
Saturday & Sunday
Waitlist is open:
5 slots, 4 projects per slot.
Queue (OPEN - 2022)
GriffintaurAxtonished
✩✩✩✩ - Reserved slot / Not started
★✩✩✩ - Sketching / Pending approval
★★✩✩ - LineArt / Clean up
★★★✩ - Coloring / Shading
★★★★ - Last details / Finished
---
★ About slots and queue ★
I usually open four slots, once all four slots are taken I won't save/reserve any more slots and commissions will be closed unless stated otherwise.

I can save slots for a limited time (1 month) so please be sure that you want one before asking, if you require more time please tell me, if a month has passed and I've deleted your reservation and there are available slots for you to take, then you can reserve one again.
Each group of stars (✩✩✩✩) represents a different project, you can ask for more than one project per slot. Four projects per slot max. You can reserve another slot if you want to request more than four projects and if there are available slots. Slots don't represent projects.

I take a break after getting done with each project, take this into consideration if you have a deadline.
I reserve the right to change these guidelines if necessary.
---
★ Contact ★
[email protected]
(E-mail preferred if it's your first time requesting)
Telegram
Discord: Mile★#4362
• Business Card •
---